Feasibility Study and Prototype Realisation for automatic docking components station on painting line conveyor chain
Purpose:
Development of an automatic docking components system that won't cause interference or passive loads to the painting line conveyor chain.
Solution: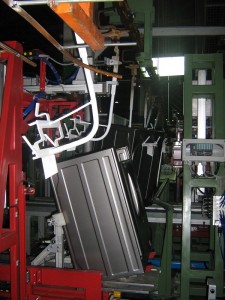 Feasibility study and functional test were performed on painting line conveyor chain of washing machines.
Due to the high variation of components and the necessary sensitivity of the manipulations, activities of loading furniture and panels are generally manually made by authorized personnel.
The chosen solution is based on two different and independent loaded cars with controlled axes and tracking and docking procedures without passive loads on suspended trays conveyor .
Result:
Thanks to the system, labour costs are considerably reduced